Scritto da pieru il 13 Nov 2021 alle 08:00 am | Archiviato in: Aziende estere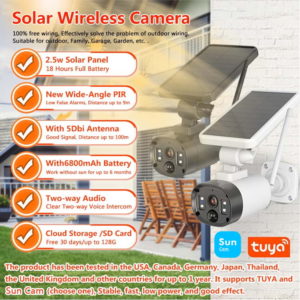 Un altro prodotto impedibile: una telecamera di sorveglianza a energia solare: diamo un taglio al fastidio di cambiare le batterie e facciamolo con un po' di rispetto per l'ambiente, niente di meglio di questo prodottino rigorosamente made in China. Ho ricevuto questa mail più di 50 volte, sommando le mie caselle di posta elettronica, non lo comprerei neanche sotto tortura.
Dear Sir or Madam,
We would like to introduce the latest producet Solar wifi Camera. We also produce solar pump inverter and off grid inverter as well as Variable frequency drive/VFD/AC drive/Frequency inverter.
Product Name: Solar wifi Camera
Technical features:
1: 2 million high-definition image sensor, with a resolution of 1920 * 1080p
2: Support two-way voice intercom
3: Support cloud storage function, free one month cloud storage
4: Support solar charging, PIR human body induction video recording, built-in large capacity battery.
5: Aluminum alloy shell, supporting IP66 waterproof and dustproof
6. Suitable for outdoor places such as courtyard, construction site, farm, countryside, orchard, reservoir, etc
Any inquiry please contact us
Email:****@189.cn
Whatsapp/Cellphone/Wechat/Skype: +86 ****
Lascia un commento