Scritto da pieru il 14 Nov 2016 alle 08:00 am | Archiviato in: Spam romantico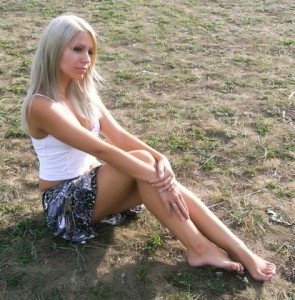 Questo tentativo di scam non è particolarmente originale ma ha catturato la mia attenzione per un paio di motivi.
Il primo è che la ragazza si presenta come una vedova di 32 anni, a memoria questo è il primo caso in cui i truffatori mi propongono una vedova ma potrei sbagliare.
Il secondo è la foto: la ragazza ha un gran bel paio di gambe e di piedi ahah
Sono stato tentato di rispondere ma sono un po' stanco, provare a prendere all'amo queste organizzazioni richiede parecchie energie e tempo che in questo momento non ho.
In realtà in almeno un paio di casi ci ho provato e sono andato un po' a fondo nella questione, prima o poi mi deciderò a scrivere i risultati delle indagini!
Mi raccomando: non abboccate e non rispondete, è estremamente probabile che all'altro capo della comunicazione non ci sia nemmeno una donna! La foto se la sono procurata chissà in che modo!
Hello.
I am glad to write to you.
It will be possible surprisingly for you to see my letter. But I would like to tell why I write to you!
You, probably, will be very surprised, that I write to you the letter. But yesterday, I have been surprised too when on mine e-mail address, the letter in which it was spoken about love has come, about feelings between people. The main motto of the given letter was a phrase ? Search for love and you will be happy ?. I liked the given letter. To í??ó were applied e-mail addresses. I have seen yours e-mail and have decided to write to you. I do not know what is your name, I do not know where do you live, but for me the main idea – is possible, you search for love? There can be this letter – destiny?
I do not know, how the person who has sent me the given letter, have learned my personal e-mail. But I know that it not Spam!
But I think, that it is not so important. The most important that now I can write to you the letter. You know, I would like to learn you more. But all over again, I would like to tell a little about me.
My name is Anastasiya. I from Samara. To me of 32 years. I the widow. My husband was lost in accident!
I the nice, quiet, kind and sociable girl.
You can look at me in my photo!
I freely talk in English.
It will be interesting to me to communicate with you, and to learn you more close. The dialogue I build with an overall objective – creation of serious attitudes. Attitudes without a deceit, without any games. I wish to find the present person who can love and respect with me. I hope, what you as would like to find the love?
I consider, that in love attitudes, appearance and age not the most important. The most important that the person was able to love and respect really!
I have various hobbies and interests among which is – playing sports, cookery, reading of books, music. Special interest in me is caused with conducting housekeeping, cleaning in the house. I like to experiment on kitchen.
I very much love animals.
I conduct a healthy way of life. I do not smoke and I do not take alcohol.
My new friend, you can tell to me, about you? I wish to learn you more.
In following letters, I shall tell to you about me, in more detail.
Certainly, I shall send you many my photos from which you learn my life. In my photos the moments of my life – pleasure, thoughtfulness and even in some moments grief are represented all.
I with impatience shall wait your answer.

Only On my personal e-mail: anastasiyasamara@gmail.com

To me the truth would be desirable to learn you more.
Please, do not forget about me.
Your new girlfriend from Russia,
Anastasiya!
Lascia un commento